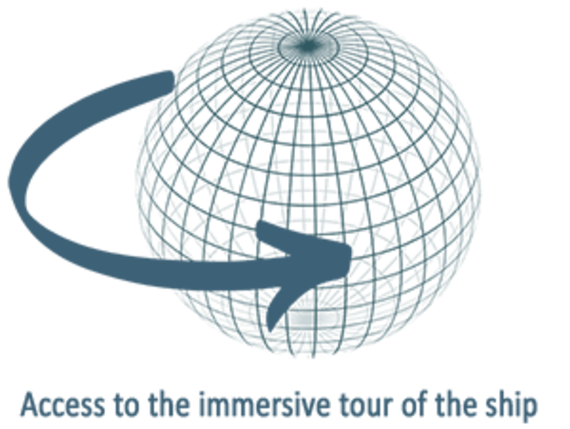 The Marion Dufresne is a multipurpose vessel. Launched in 1995, she is operated by Louis Dreyfus Austral Seas, chartered by France's Antarctic Overseas Territories (120 days per year, approx.) and sub-chartered to IFREMER (217 days per year on average).
Her main activities involve oceanographic research on all seas that are not covered with ice, under the responsibility of IFREMER, and logistics to France's subantarctic islands (Crozet, Kerguelen, Amsterdam/Saint-Paul) under the responsibility of France's Antarctic Overseas Territories.
The Marion Dufresne is therefore several ships in one:
Scientific research vessel equipped with 650 m2 of laboratories, a winch system for handling submersibles and heavy equipment, multibeam echo sounders, and the giant corer CALYPSO (the only one of its kind in the world);
Ferry to carry staff to and from France's subantarctic islands (110 passengers);
Freighter of 4600 m3 capacity, loading containers and heavy cargo, and equipped with two 25-tonne cranes that can work in tandem and three other service cranes;
Oil tanker for delivering fuel to the bases;
Aircraft carrier for Écureuil, Lama and Dauphin-type helicopters.
Missions
The Marion Dufresne is one of the largest research vessels in the world (120 m long) and covers all oceanographic fields except fisheries:
Marine geosciences: geology, geophysics, sedimentology, palaeoclimatology;
Biological oceanography: biology, biogeochemistry
Physical oceanography: physico-chemistry, water mass dynamics.
Her capabilities for sediment coring and palaeoclimatology are internationally recognized. The Marion Dufresne's giant corer CALYPSO makes her one of the few ships able to collect sediment cores of more than sixty metres long. The current record is a sixty-nine metre core of very high quality sediment collected off the Crozet Islands in the Southern Ocean.
The major refit in 2015 increased considerably the Marion Dufresne's resources in scientific equipment, echo sounders and laboratories, as well as improving her capacity for sampling and her coring system.
New capabilities will be integrating the ship in late 2019. She will be able to deploy the Penfeld penetrometer, the Victor 6000 ROV, and all of the fleet's seismic devices.